Founder Spotlight #4 - Thomas Jacquesson
Tom is the co-founder of Pony Express Studio and Tweet Hunter, a tool that helps you write better tweets and grow your audience. We spoke to Tom in November about how he and his co-founder Tibo have grown their SaaS to (at the time) over $20,000 in MRR in just six months.
The Indie Worldwide Newsletter
Welcome to the Indie Worldwide Newsletter!Every month we shine the spotlight on a founder in the Indie Worldwide community who's been working hard and accomplishing great things.In this newsletter:
Upcoming Events, first ever in-person meetup!
How much should an accountant cost?
Founder Spotlight: Tom from Tweet Hunter
This newsletter is sponsored by 
True Source
. Zoltan and Edward have built a no-code product to turn your data-sets into data-products. Upload data from any source, configure your product, and 
start earning in minutes
. Highly recommend :)
Upcoming Events:
We're also planning our first-ever in person meetup in New York City this Spring. If you're in town and want to come, respond to this email and let me know.
If you're not in NYC, but want to organize a meetup in your own city, I'd love to hear from you too.
How much should an accountant cost?
Many founders, myself included, find ourselves a bit at a loss each year around tax time.
Are we getting a good deal? Does our accountant know what they're doing?
I conducted a very non-scientific survey of Indie Worldwide founders (in the USA) and found that on average founders are paying about $800 to file their personal taxes here if they use an accountant plus an additional $800 on average to file their business taxes.
Survey results:
Founder Spotlight 🔦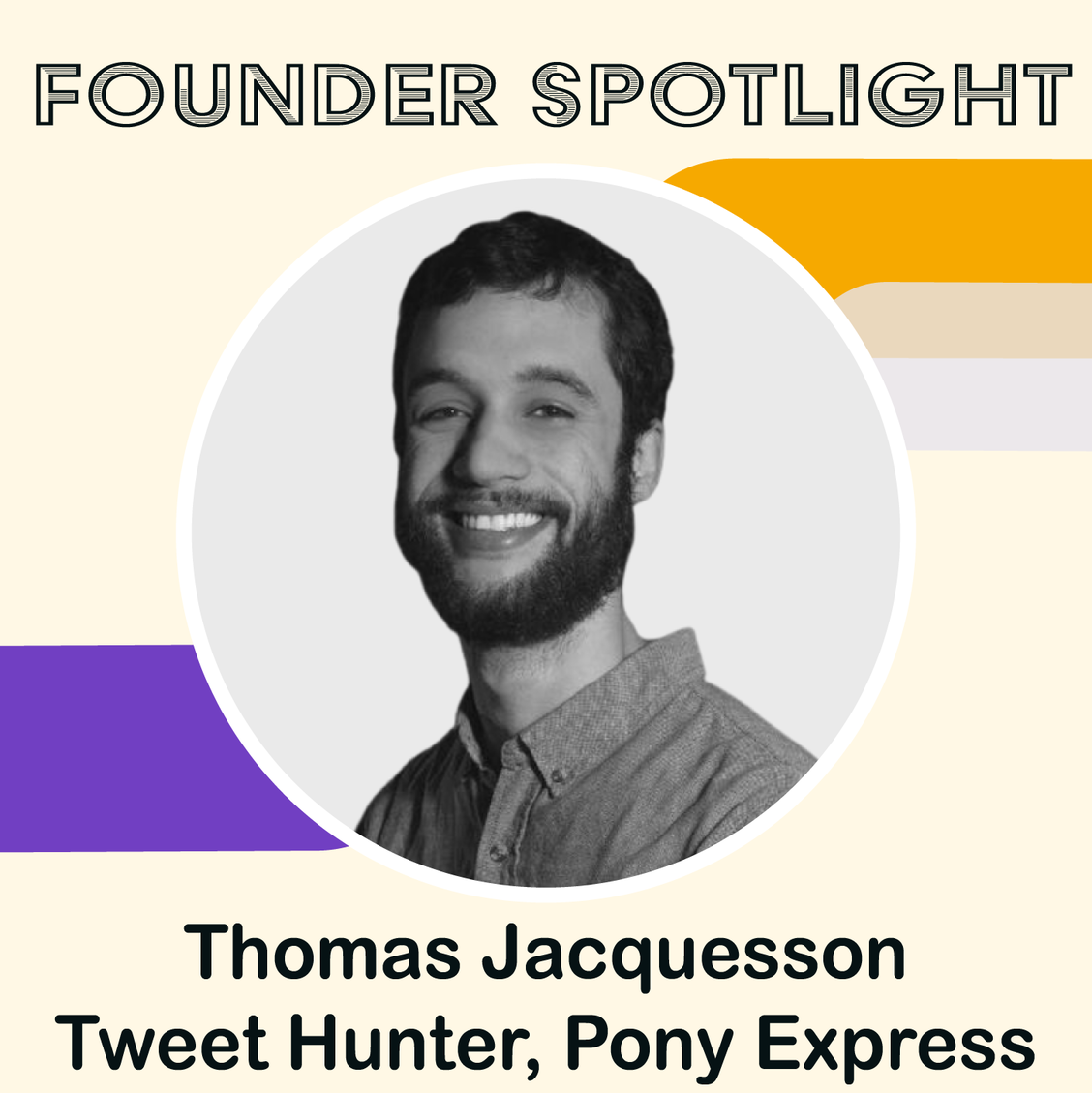 Thomas Jacquesson, Tweet Hunter
Tom is the co-founder of 
Pony Express Studio
 and 
Tweet Hunter
, a tool that helps you write better tweets and grow your audience. We spoke to Tom in November about how he and his co-founder Tibo have grown their SaaS to (at the time) over $20,000 in MRR in just six months.
What does Tweet Hunter do in a sentence?
It's an all-in-one tool to help makers and creators build a high quality Twitter audience.
Do you have any co-founders?
I have one co-founder, Tibo. You've probably seen him on Twitter as well.
How about employees?
We have one collaborator who's more of a partner than an employee and we have one contracted developer that helps out Tibo with all the technical stuff.
What's your MRR right now?
Right now we're at 21k per month. [Note: this was back in November]
How long ago did you start?
We started in May, 2021. So about six months ago.
That's crazy growth. What advice would you give to a new founder? Somebody just starting out.
The typical advice is to grow an audience before you build a product. My advice would be to build small products that build up your audience and then use that audience for your big product. I think it's all about starting out with an idea in mind and not necessarily being too focused on the audience, but making smaller products that will in the end generate an audience for, for your bigger project, basically.
Is that what you did to grow Tweet Hunter?
Yeah, absolutely. It actually started with Tibo and I building a product a week for like a month and a half. In six weeks we launched five products and this got us noticed a bit and in getting our first users. We've actually kept doing this over time because we've launched smaller, free resources, free products that overall contribute to the growth of our main products.
Nice. And that 2 K MRR, that's just for Tweet Hunter, or that's for all the products in the studio?
It's for all the products, but like 99% is Tweet Hunter. So it's more or less the same.
How'd you know, that Tweet Hunter was the one? What made you keep going with that one compared to the other projects you launched?
I think it was two things, one the early traction, for sure. So we got some very early interest from users, people telling us it was a great product and a good idea. The thing is we were facing the problem that we hunter is solving.
So, being very invested in the problem you're solving, because it's important for you as a founder, it's something that keeps you going.
How have you been marketing it so far? Where's this revenue growth coming from?
We've done a bunch of things. Obviously there's all the traditional stuff, like just posting on Twitter because we're a Twitter tool, and making posts on subreddits, etc
But in terms of what we've done that's a bit different from what most people do, we've actually launched products on product hunt that we're not our main product, that weren't for Tweet Hunter, and this was kind of a rehearsal for our main Product Hunt launch.We reached the second or third spot a few times. That for sure drove growth and it wasn't really expected, initially it was us rehearsing for the main launch.
Another thing we did is we actually purchased a competitor and for a few months it was like our third source of traffic.
The last thing we did that was really original was we partnered with a pretty big influencer in the realm of Twitter ghost-writing, JK Morina [Note: didn't confirm spelling]. He's really famous for helping out people in terms of how to tweet. So with him, we were able to truly kickstart our growth.
We tripled our revenue in two weeks. So that for sure was a big help.
What did they do for you to get you that growth?
Getting him (JK) on board as a team member, a real team member, and having him communicate to his audience, his email list, his Twitter.
At the time I think he had around 40K followers, something like that plus a few thousand email subscribers. on his email. It's more about the quality of the audience than the size.
So you said you brought them in as a partner, that means he has equity?
He has close to equity, a profit share, and he's invested in our success. Equity would have been too complicated of a process so it's contract based.
Gotcha. He's got some kind of financial stake here. And then, um, have you, how much have you invested in the business yourselves?
Not much, a lot of our time, basically. It's been pretty much profitable from day one, except for the time we spent building it. Personally, we haven't invested anything except the fees to create the company.
Have you raised any money or debt? Nope.And are you full-time? Yeah, we're full time.
Thanks Tom for agreeing to the interview!
---
Launches 🚀
Ana Bibikova and I 
launched Wizen Guides on Twitter
. We interviewed founders of the fastest growing bootstrapped startups and turned their wisdom into the best how-to marketing guides on the internet. Chapter one is going out on Monday.
Akshay launched a new Podcast series 
"The HR Club" on Twitter as well
 to bring the voice of People leaders on the crucial people functions like employee growth, engagement, and performance.
Kevin Loo launched 
Endex
, a broker agnostic social investment platform that enables monetization of investment content through custom indexes.
Miguel Espinoza 
launched Turbo Nav
, the best experience for getting stuff done on your browser by managing your tabs and creating focus sessions. Try it out with invite key "BETA-2022".
Post your launches in #launch-alert in the Indie Worldwide slack for a chance to be featured next month.
If you're not in the Slack already you can get an instant invite by joining 
Founders' Club
, the pro-version of Indie Worldwide.
That's all for this month, hopefully see you at the March meetup 😉
Anthony from Indie Worldwide
---
Indie Worldwide is supported by: